What is Qasil Powder?
Qasil Powder has been an ancient Somali beauty secret for centuries. The secret to the beauty of Somalia girls and women is Qasil Powder in Somaliland. Qasil is made up from the dried, finely crushed leaves of the Gob Tree. When it's finely grounded, it appears as a green powder and gives out an earthy aroma. When you mix it with water, it creates a paste which is used as a face mask. Our Qasil Powder is 100% organic. Directly from Asli Mills farms in Somaliland. Qasil is an age-old secret of the nomadic tribes in Somalia. It is made from the shredded leaves of the Gob tree, which is native to Somalia and countries that share a similar environment in East Africa. It is considered a natural soap due to its gentle cleansing components. It leaves the skin feeling clean and soothed.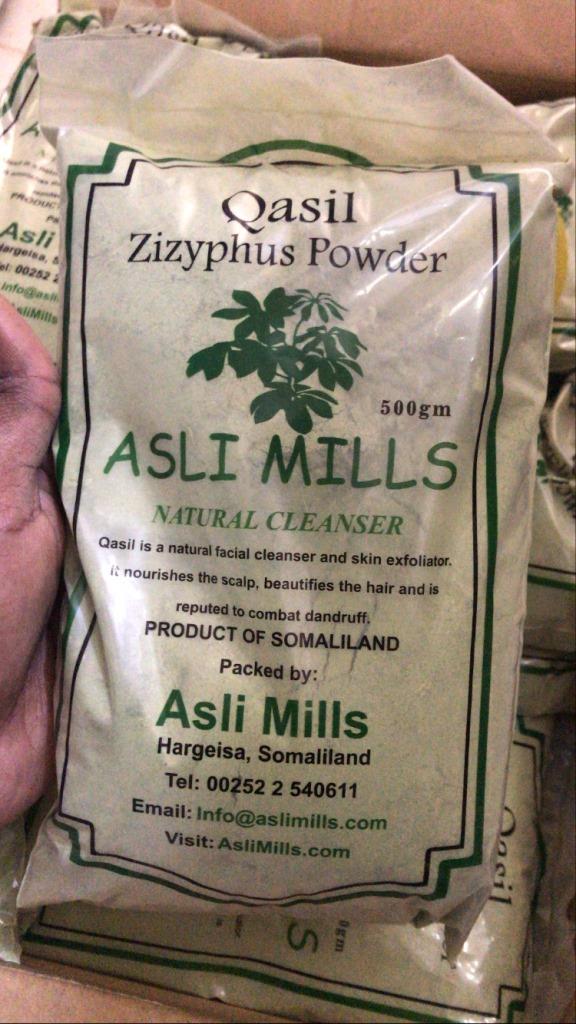 The benefits of using Qasil Powder:
Its simple, clean and highly effective skincare powder which can be used as face mask, cleanser, body wash, spot treatment, to heal eczema, acne, scarring, shampoo, hair mask and even out the skin tone. It also comes with many benefits like toning, cleansing, hydrating and so on. Adding Qasil Powder to your skincare routine is gonna make your skincare routine easier by replacing some of your current products and its also gonna save you some time to do more important things. It is great to draw impurities from the skin and detoxify. Qasil Powder unclogs the skin pores and shrinks them, control the overproduction of serum and draws out toxins from the skin. It is known to Cosmetic Products and Skin Care Products.
The leaf powder is a cleansing/exfoliating face mask used by Somali Women as well as on the hair weekly to condition and is reputed to combat dandruff.
Our Qasil Powder comes straight from the earth to nourish your skin as an All-Natural multipurpose Beauty Product.
Where from Qasil Powder is to collect:
Qasil Powder is made from the leaves which are collected from the Gob tree and crushed into powder. Women in East Africa have used the leaves from the Gob tree for centuries to exfoliate and soften their skin.
Why You Can Use Qasil Powder As A Face Cleanser:
Qasil Powder is luxurious for 100% earth grown soap. It contains an cleansing agent called saponins. This provides the Qasil Powder the ability to foam up and it created an naturally soapy lather. This powerful cleansing powder delivers life changing results and it's the secret ingredient that have kept Somali Women looking youthful for centuries.
Where can I get Qasil Powder?
Asli Mills is your trusted supplier of the best organic Qasil in Somaliland. Asli Mills only deals with wholesale orders for Qasil. Wholesale/Bulk orders is available for the following address:
Road No.1, Downtown Hargeisa, Somaliland.
Contact at : +252634167478/ 634083389
Mail at: info@aslimills.com